Register
Registration for the Ride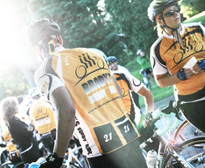 All riders must be able to ride at an average pace of 14-16 mph. All riders must raise a minimum of $100. This donation will include riders' registration fee, a small thank you gift, and food and beverages following the ride. To register, riders must pay $100, along with the completed registration form, by August 1, 2019.
Additional donations to be collected at Alteri's on Thursday, August 16th between 6 and 8 pm. A prize will be awarded to rider who raises the most money. Tax deductible donations can be made payable to: Brody's BUDDY™ Ride.
---
Register By Mail
Should you prefer mailing in your registration form as opposed to doing it online, please print and mail in the appropriate form per the below attachment.
Brody's BUDDY™ Ride
PO Box 382
Washington Mills, NY 13479
Waiver: In consideration of me and/or my minor child being permitted to participate in the Brody's BUDDY™Ride, I herby–for myself, my heirs and personal representatives–assume any and all risks that might be associated with the event. I further waive, release, discharge and covenant not to sue The Brody Savicki Foundation, Inc., its officers, employees, sponsors, organizers, volunteers or other representatives or their successors and assigns, for any and all injuries or damages of any kind whatsoever suffered by myself and/or my minor child as a result of taking part in the events and other related activities. I also authorize the use by The Brody Savicki Foundation, Inc. of any photo, film or videotape taken of me or my minor child at the event for any purpose.